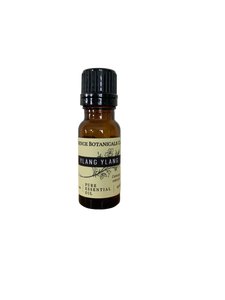 Ylang Ylang (#1)
15ml. (1/2 oz)
Botanical Name:  Cananga odorata
Country of Origin:  Madagascar
Aromatic Description: Ylang Ylang #1 has a sweet, exotic, floral scent that is one of the most sought-after. There are several grades of Ylang Ylang Essential Oil, which are extracted at different times during the flower's lengthy distillation. These grades are referred to as Extra, I, II, and III (or Complete).  
Blends With:  Bergamot, Grapefruit, Lavender, Neroli, Rosewood and Sandalwood.
Cautions: Dilute before use; May cause skin irritation in some individuals; a skin test is recommended prior to use. It can also cause sensitivity on some people; excessive use of it may lead to headaches and nausea. Contact with eyes should be avoided.