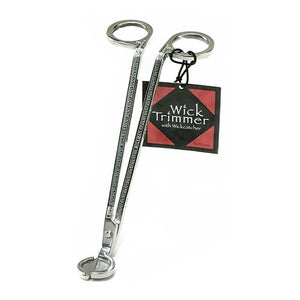 WICKMAN Wick Trimmer
Wickman Wick Trimmers are perfect for trimming your wicks before each burn. It has a measuring foot so it automatically measures your wick to 1/4" before you trim. A must-have for candles! A precise cut ensures a cleaner, safer candle burning. Once cut, trimmings are collected in a built-in debris tray for easy disposal. 

As elegant as it is functional, our Wick Trimmer has an intricately detailed pattern gently carved into its durable stainless steel handles, accentuating any candle and home décor.