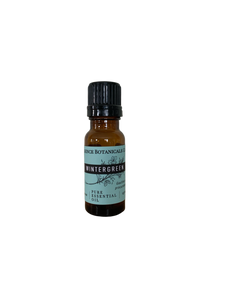 Wintergreen ORGANIC
15l (1/2 oz)
Botanical Name: Gaultheria procumbens
Country of Origin:  Nepal
Aromatic Description: Sweet camphor-like minty scent, similar to Sweet Birch, a main component in the flavour of root beer, with spicy tones.
Blends With: Ylang-ylang, Peppermint, Marjoram, Lavender, Birch Sweet and Vanilla.
 Cautions:  Menthyl salicylate is the principal constituent of this plant. If you are taking blood thinning medication Wintergreen Essential Oil may increase the affects of your medication. DO NOT USE.  
Dilute before use; for external use only. May cause skin irritation in some individuals; a skin test is recommended prior to use. Contact with eyes should be avoided.
Please keep out of reach of children. Wintergreen Essential Oil can be fatal to small children if swallowed.