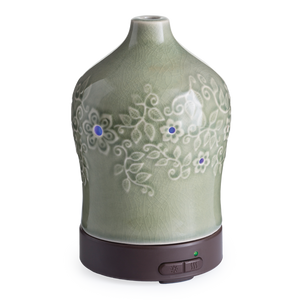 Perennial Medium Diffuser
The Perennial Diffuser has a jade green crackle glaze, accented with a floral and greenery design which sits on a brown base.
Use to diffuse a refreshing mist of water and essential oils for aromatherapy benefits and natural fragrance that can enhance your mood.
Features two mist modes for up to 8 hours of use, 8 LED colors, an auto shut-off feature, and 100 ml capacity.
Diffuse 100% pure, therapeutic grade essential oils or All-Natural Odor Eliminators from our expanding Airomé line. 
Includes diffuser, ceramic sleeve, measuring cup, and electrical cord.
Elegant home décor is the focus of every Airomé diffuser, and each is made to complement your personal taste. 
Add up to 5 drops of essential oils per 100 ml of water, replace the decorative sleeve, switch the diffuser on, and enjoy a spa-like aromatherapy experience in your own home. 

R- Many of our products have reactive glazes, hand-painted designs, or varied finishes which give each piece a one-of-a-kind look. The final finish of products marked with an R will vary from piece to piece. 
Two mist modes:
Continuous mist (lasts approximately 4 hours)
Intermittent mist, on and off every 30 seconds (lasts approximately 8 hours)
8 LED colors
Rotate through all colors or select the color of your choice
Auto shut off when water runs out

Directions for use:

Step 1. Add water to the inner vessel until the fill line. 
Step 2. Add up to 5 drops of essential oil depending on your preference.
Step 3. Place lid on inner vessel and slide ceramic sleeve over the top.
Step 4. Turn diffuser on and enjoy the ambiance immediately.

Includes: Diffuser base and cap, ceramic sleeve, measuring cup and electrical cord. Essential oils sold separately.

One year warranty.
We warranty our products for one year from time of purchase. If at any time you are unhappy with your purchase please contact us by phone at 1-800-262-2305 or by mail at: Candle Warmers, Etc., 6050 W 700 S, Ste. 300 Salt Lake City, UT 84104.