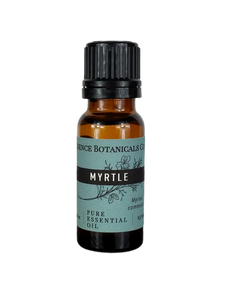 Myrtle
15ml (1/2 oz)
Botanical Name:  Myrtus communis 
Country of Origin:  Morocco
Aromatic Description:  Myrtle essential oil has a clear, fresh scent that is slightly camphoraceous much like Eucalyptus.
Blends With: Bergamot, Clary Sage, Clove, Hyssop, Eucalyptus, Ginger, Lavender (All), Peppermint (All), Rosemary (All), Spearmint, Thyme (All), and Tea Tree. 
* Myrtle essential oil is characterized as being antiseptic, an astringent, bactericidal, and as an expectorant. Aromatherapy applications include usage to combat sore throats and coughs. 
Cautions: Dilute well before use; for external use only. May be toxic in high concentrations, and can cause skin irritation in some individuals; a skin test is recommended prior to use. Contact with eyes should be avoided.