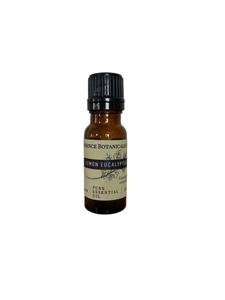 Lemon Eucalyptus
15ml (1/2oz)
Botanical Name:  Eucalyptus citriodora
Country of Origin:  Brazil
Scent Description:  It has a citronella-like pleasant odor of Eucalyptus with fresh, lemony top notes and balsamic floral base notes. 

Blends With: Basil, Cajeput, Cedarwood, Citronella, Lavender, Lemon, Myrtle, Frankincense, Spearmint and Tea Tree.
Caution: Avoid if you have high blood pressure or epilepsy. For external use only, this is considered toxic if taken internally. Dilute before use; may cause skin irritation in some individuals, so a skin test is recommended prior to use. Avoid contact with eyes. Avoid during pregnancy.