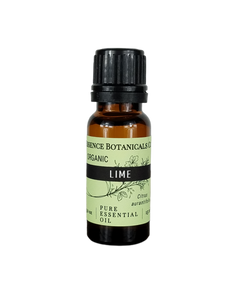 Lime Essential Oil
15ml (1/2 oz)
Botanical Name:  Citrus aurantifolia
Country of Origin: Peru
Aromatic Description: Sweet, zesty and crisp citrus scent.

Blends With: Geranium, Bergamot, Grapefruit, and other citrus, Cedarwood, Lavender, Rosemary and Ylang Ylang.
Caution: Exposure to the sun must be avoided after applying to the skin for 12 to 18 hours, even if diluted . This oil has photo toxic properties and can cause irritation if exposed to UV rays after application. Dilute before use; for external use only. May cause skin irritation in some individuals; a skin test is recommended prior to use. Contact with eyes should be avoided.