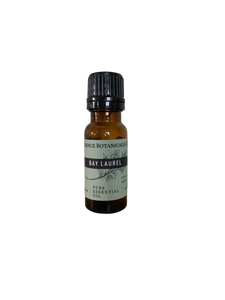 Bay Laurel
15 ml (1/2 oz)
Botanical name:  Laurus nobilis L.
Country of Origin:  Hungary
Aromatic Description:  Bay has a spicy bay leaf scent with a strong top note.
Blends With: Bergamot, Virginian Cedarwood, Eucalyptus, Fennel,Ginger, Orange, Patchouli, Rosemary,   Ylang-ylang.
Cautions: Dilute before use; for external use only. May cause skin irritation in some individuals; a skin test is recommended prior to use. Contact with eyes should be avoided.