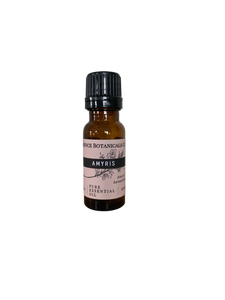 Amyris
15ml (1/2 oz)
Botanical Name:  Amyris balsamifera
Country of Origin: Dominican Republic
Aromatic Description: A base-to-middle note with a medium aroma, its scent is mild, sweetly balsamic and somewhat reminiscent of Cedar.

Blends With:  Amber, Jasmine, Rose, and other woods. It is often used to extend Sandalwood.
Caution: Dilute before use; for  use only. May cause skin irritation in some individuals; a skin test is recommended prior to use. Contact with eyes should be avoided.