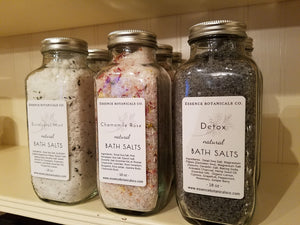 Bath Salts, Soaks & Teas
Milk Baths are beneficial for dry skin, Eczema, Psoriasis, Poison Ivy, and just all-out soothing. Milk Baths are increasingly popular for baby photo shoots!
Eucalyptus Bath Salts are a blend of exotic salts from around the world which contain powerful minerals needed by the body. Replenish your body while soothing sore muscles and opening sinuses. A must have for cold and flu season!
Chamomile Rose Salts are and interesting blend of salts, botanicals and essential oils. Indulge and soak in this unique blend before bed and all your cares and worries will float away. 
Detox Bath Salts are an intense blend of salts and detoxifying charcoal. Detox is a healthy choice after medical procedures involving heavy metals and/or radiation, but we are surrounded by toxins on a daily basis which can build up over time. A detox bath will help eliminate the toxins and leave you feeling refreshed once you recuperate from the detox. As with all the bath salt soaks, use tepid bath water and drink plenty of water and rest afterward. 
18 oz. jar contains enough for 3-4 soothing soaks.